Latest Project: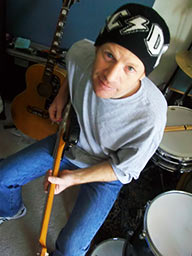 Bob Funk is a producer/guitar player currently based in Nashville, Tennessee, where he has lived since the mid 1990s.
Originally from Saskatchewan, he graduated with a Jazz Performance major from Grant McEwen College in Edmonton, then promptly took a left turn to pursue a career in Country music. "I know, it's a little strange," he says, "I do really love jazz, but I never really envisioned myself as a New York City bebop player. In the late 1980's, country music was enjoying a real artistic renaissance. The genre was incredibly healthy and diverse at that time, and since I grew up listening to traditional country music, it seemed like a good fit."
A friend from college recommended Bob for a touring job in early 1988, and that quickly led to being hired by Patricia Conroy, who was starting to make a name for herself in Vancouver. "I heard her sing and saw her unique talent and artistic focus and really thought that she had a bright future. Fortunately for me, I was right!" Patricia has her own take on their first meeting: "I met Bob and heard him play and instantly knew he had to be part of my band. We've never looked back…"

Listen:
When
Bob has toured and recorded with Conroy ever since. Along the way his work as a guitar player earned him a CCMA All-Star Band – Guitar Player of the Year award, and he also contributed to Patricia's CCMA Album of the Year as a songwriter. "What Do You Care" was one of the standout radio hits from her Bad Day for Trains album.
Bob has also been Patricia's producer Since 1998, producing Wild as the Wind with engineer Rocky Schnaars, and most recently Talking to Myself with co-producer and long time friend Kevin Churko. "I've been interested in music production since I got my first 4 track tape machine when I was 14," he says, "and that made it a foregone conclusion that I would eventually become a producer. It was just a matter of time really…"
When not busy touring with Conroy, Bob has managed to work with a long list of artists as a guitar player. He has either performed or recorded with many great artists, both in Canada and the US, including:
Billie Dean
Rodney Atkins
John Berry
Amy Dalley
LeAnne Rimes
Lisa Brokop
Michelle Wright
Duane Steele
Beverly Mahood
One Horse Blue
McAllister
Dan Seals (England Dan and John Ford Coley)
Jimmy Seals (Seals and Crofts, The Seals Bros)
...and many more.
"A lot of the fun things I have done are because of relationships with people who know that they can trust you to do good work." he says. "For example, my friend Billy Decker, who is a great Nashville producer/mixer got me on a LeAnne Rimes remix, and a John Berry record, and thanks to my association with Kevin Churko, I got to play on a cut on the last Ozzy Osbourne record which he produced. That was definitely a career highlight!"
For the last couple of years Bob has been focused mostly on producing. Patricia Conroy's latest album Talking to Myself is a great showcase for his ability and attention to detail, and he is developing a reputation with his clients for his work ethic and dedication to getting the best performances from the artists he is working with. Most recently, he co-produced a record with Kevin Churko for country artist, Mike Gouchie, and is currently doing artist development production work in Nashville for various artists.